Neudorf Vineyards – Upper Moutere Nelson
Neudorf Vineyard is the most well known Nelson wine producer, both domestically and internationally.
In a beautiful garden setting in the Upper Moutere there are no better surroundings to proudly showcase world class wine and country scenery to visitors.
The drive in through majestic trees sets the scene and immediately heightens anticipation and then the original, although adapted stable buildings are there inviting you in to taste.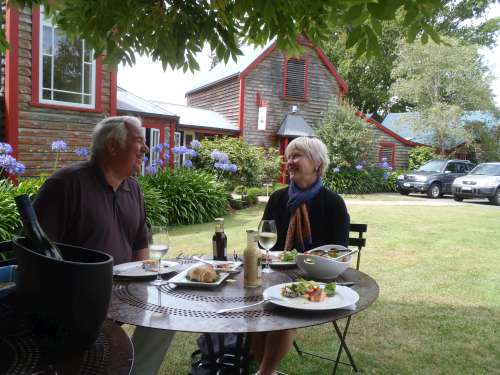 From the tasting room it is impossible not to be drawn out onto the sun blessed lawn to inspect the adjacent vines. With tables supplied, the Finn's are happy for people to relax with an available cheese selection or to bring their own lunch and relax and gaze at Mount Arthur or feel part of the wine making operation with the passing of industrious staff or the unobtrusive background noise of tractors or forklifts.
Tim & Judy Finn started their dream in 1978 and from the very first vintage in 1981 surely knew they had something special. The home vineyard is on gently sloping, north facing but shallow sandy loam over clay bearing gravel, with low fertility ideal for premium grape production. The wine making team have remained passionate in allowing the wine to express the site characteristics.
Chardonnay is without doubt Neudorf's flagship wine often being rated as among the best in the world, however, their Pinot Noir is also now very highly rated and rumour has it that the 2011 Pinot Gris will be there best ever. Be assured any wine variety produced at Neudorf will be of exceptional quality – they have finesse – they are the thinking person's reason for living.
I was proud to choose Neudorf wines when recently invited to the Caribbean to showcase the best of New Zealand wine at a function on board a super yacht during the St. Bart's Bucket race.
For more information and news of Neudorf visit www.neudorf.co.nz
Neudorf means 'New Village' in German and stems from the early German immigrants that came to the region.