Exclusive Marlborough Tour
One of the real pleasures of my job is catering to the specific interests of my guests. This means taking time to visit places, research, assessing personalities and the quality of the organisation, its stories and surroundings and finally being involved with the guests visit. Open displays of satisfaction and appreciation by visitors to those things and people you have introduced them to is a huge reward.
The following are four places that should be experienced.
Shark Nett Gallery – Maori Art at its Best
The world's largest private collection of contemporary and traditional Maori carvings are a solid attempt to ensure the stories and heritage as told through the carvings will not be lost.
The Gallery is located on Queen Charlotte Drive and sits alongside Pelorous Sound looking across the water to Havelock. www.sharknett.co.nz
Nautilus Winery is surely one of the most consistent quality wine producers in Marlborough. We were privileged to be given a guided tour of the most modern of facilities and provided with tank and barrel samples. The personalities of the staff and quality of the wine and of course the food matches the whole experience probably could not be topped. www.nautilusestate.com
Lunch beckoned and always keen to try something new we went to the Brancott Estate Heritage Centre. The views stretching across Marlborough, even to the hills of Wellington, highlight the vastness of the grape growing area.
A video on the history of wine was well done and the view having lunch was as you see in the photo. www.brancottestate.com
Omaka Aviation Heritage Centre is not just another museum and has been described as "best museum in the World.
Human stories from the Great War come to life in a theatrical treatment, which is innovative and visually stunning. Captivating scenes depict the aircraft in context, some creating actual incidents.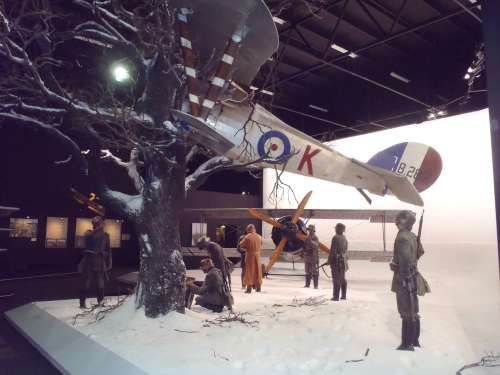 The rare memorabilia is worthy of any national collection and ranges from beautifully crafted 'trench art' through to personal items belonging to the famous Red Baron himself. www.omaka.org.nz
More photos can be seen on my Facebook site.